Technology
Insu Intelligent street light controller works on Green technology
Up to 52% energy saving
Reduce carbon foot print
Effective public service
Track your energy consumption day by day
Street lighting management at your finger tip
A great software tool for maintenance management
Increase luminary life - thanks to hawk eye protection system
Easy installation – replace existing feeder pillar…
and that's all
Works on low cost GSM communication

System Block Diagram: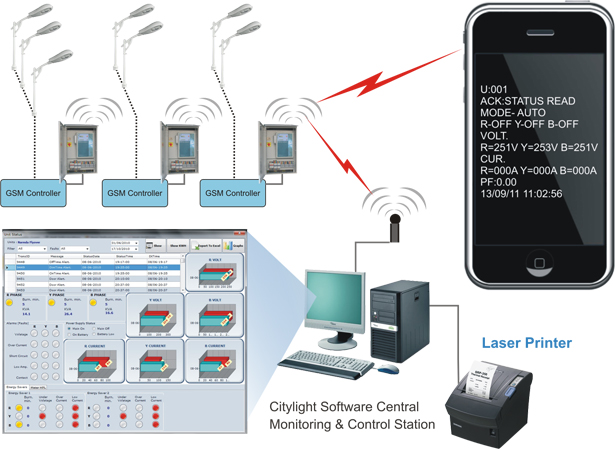 Over view of the System
Intelligent street light controller is installed in place of existing feeder pillar.
Street light monitoring and Control System starts working with normal power ON.
Controller switch on/off the connected street lighting as per astronomical parameter programmed.
Controller moves in to energy saving mode as per the programmed parameter and in co-relation with the in – coming power parameter.
Controller protects the system by tripping the individual fault phase as per programmed protection parameter settings.
Controller can restore the tripped phase by its auto resetting features or by acknowledgement of the alarm.
Street light remote monitoring and control system sends message to and alarm (in case of GSM option) on the following events: (All configurable)

On / Off / energy saver starts
Faults like Over/ Under Voltage, Over current, Short Circuit & internal faults which is useful for diagnostic
PF low, Neutral open etc
Functional Description: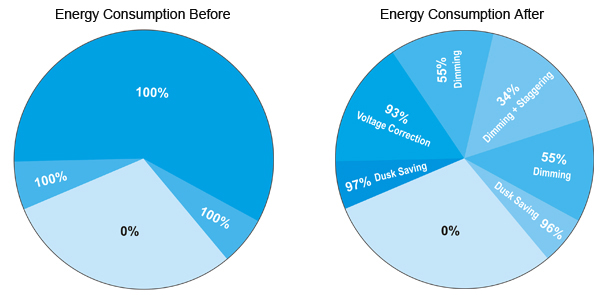 System operates on Sun rise and sunset timing – saves 4% to 8% of energy
In normal functional time system corrects voltage if goes beyond certain limit– saves additional 7% to 10% energy
At low traffic time (programmable) system enters in to energy saving mode – saves additional 45% to 50% of energy
At mid night or very low traffic time staggering starts (programmable) – additional 7% to 10% energy saving
At early morning when traffic starts, staggering disabled (programmable)
At Dawn (considering civil twilight time) system switch off the power
Insu energy saver gives you substantial energy saving by optimized burning time and staggering / dimming at off peak traffic hours
Sample Case study of street lighting operation: explains how energy saved by insu Intelligent street light controller.
BEFORE

EVENT
TIME
Contribution in actual SAVING reflected on energy meter
TO
FROM
SWITCH ON
18:00
-N.A.-
0
0
SWITCH OFF
6:00
-N.A.-
0
TOTAL ENERGY SAVED
0
AFTER

EVENT
TIME
Contribution in actual SAVING reflected on energy meter
in %
TO
FROM
SWITCH ON
18:00
-N.A.-
4
VOLTAGE CORRECTION
18:00
22:00
7
DIMMING
22:00
1:00
17
DIMMING + STAGGERING
1:00
4:00
16.75
DIMMING
4:00
6:00
8
SWITCH OFF
6:00
-N.A.-
4
TOTAL ENERGY SAVED
51.5 %