Energy Saver: Feeder pillar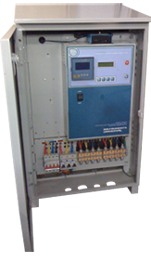 Features
Same as Protector
Rugged Street Light dimmer device
Protective dimming - ensures the proper lighting during the operational hours along with energy conservation in street lighting.
Design for optimum Energy saving and Optimum service
Highest energy saving possible up to 52%
Application
Compound Lighting
Township Lighting
Industrial Lighting
Main Road / Prime Road Street Lighting
ENERGY SAVING:
Energy Conservation possible UP to 52%. Depends upon the parameter settings of dimmer & staggering.
LAMP DIMMER: Single Pole Lighting Power saver
Features
Put connected lamp in dimmed mode after 3/4/5 hours of ON time
Small size Dimmer device easy to install on poll
In built real time clock activates dimmer after preprogrammed time
Test button to check the health of Lamp dimmer
No need to change ballast
Highly cost effective solution
Auto recovery system – ensure proper operation at power recovered
Application
Poll mounted Dimmer Timer for mixed type load
Small – portable device fits for HPSV lamp
ENERGY SAVING:
Lamp Dimmer Timer can save UP to 30% energy every day.